Miele GB – Virtual Product Launch (Studio Approach)
We were delighted to support our new client, Miele GB – Professional, with their biggest UK product launch in 15 years – a 2-day virtual event. Originally a physical event, we helped them adapt the event to a virtual one due to the Covid pandemic. This enabled the launch to go ahead and meet their important product launch deadline. The high-quality broadcasting styled events ensured the launch would stand out within their industry. Further enhancements to keep ongoing engagement throughout the show were provided by way of clear agenda viewing, speaker bios, free format question & answer functionality, regular polls, a fun quiz and quick expression emoticons to show sentiments.
The content can be either brought to the delegates live or on demand. We decided to broadcast the content live from the studio to increase audience interactivity. There was an added nice touch with all delegates being sent something to drink at the end of the product launch to celebrate success and enhance their experience further.
Virtual events are a very viable alternative until physical events can return providing limitless attendee numbers, as well as maximising the return on the investment by re-purposing the recorded content for use across multiple comms channels, post event.
Client Testimonial
"Thanks to everyone involved in the production of this! Delighted with the professionalism, slickness of the tech and support we received, plus a really lovely team to work with! Thanks all."
Regional Product & Customer Segment Director (LMD) | North West Europe
Miad Healthcare – Virtual Training (Remote Approach)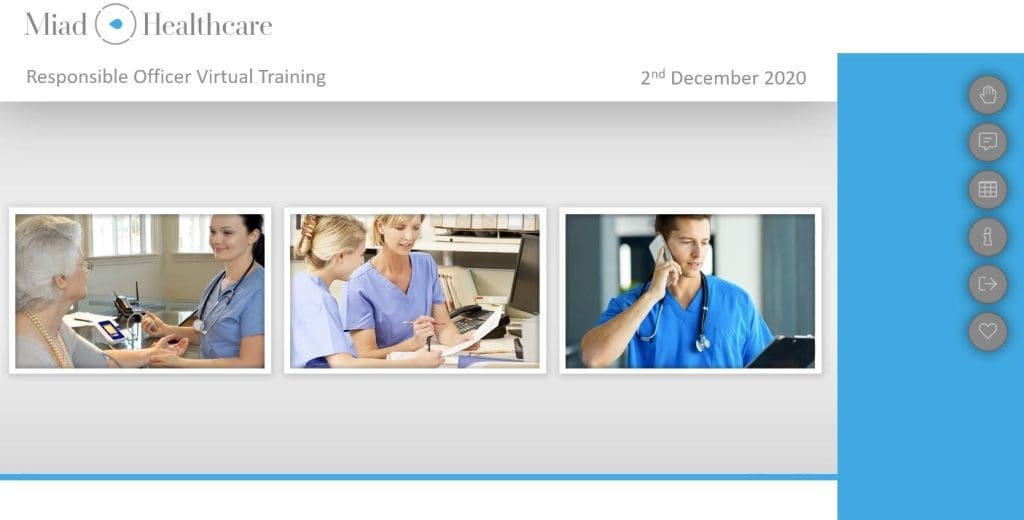 We were thrilled to work with our new healthcare client, Miad Healthcare, on their virtual training event. Due to the Covid pandemic it was not possible to host a physical event so Miad turned to us to help them convert the event to a digital one. We have now successfully run 2 virtual events for Miad Healthcare.
There are typically 2 approaches to a virtual event; all presenters being remotely based or they broadcast from our purpose built studio. Miad Healthcare chose to go with the remote approach, which meant that all speakers connected to the event from their home offices to present to their audience. All feeds from the speakers and their slides were managed by our technical team in the office and then broadcast to the audience through our bespoke platform.
The presentations included lots of interactive and engaging content, including polls, Q&A sessions and a chat function where the delegates could discuss scenarios amongst themselves. There were even emoticons to express their feelings throughout the show.
All of the event is recorded for use post event along with the various data and metrics for analysis and follow up. This makes virtual events a great option presently and maximises the return on investment.
Virtual events have been an essential solution during the global pandemic as it has enabled a variety of events to still go ahead, so companies can continue to communicate in an engaging way with their clients and employees.
Client Testimonial
''You were instrumental in helping us turn our physical event into a virtual one. Thank you for all your support on the lead up and on the day – what a successful event, the feedback has been very positive! Really looking forward to working with you again on the next one.''
Managing Director